Join Our Team…
Volunteers – Work Placements – Paid Staff
---
Paid Staff
To apply for any of the paid staff roles please complete an Application Form and Diversity Form and email it to hr@beaudesert.org.uk or by post to The Centre Manager, Beaudesert Outdoor Activity Centre, Cannock Wood, Staffordshire WS154JJ
We currently have the following vacancies:
Guest Services Coordinator
We have a vacancy for a Guest Services Coordinator.  Working Friday to Monday you will be at the heart of our weekend business, looking after the customer from arrival through to departure and working on gaining their next booking. You will take bookings via phone, email or in person, you will serve in our shop, you will be able to coordinate the responses to any question a customer throws at you utilising the help of other teams.  You'll be great on the computer confident to use Word, Excel, Outlook and our bespoke booking programme to take bookings and create programmes for groups. It is a very diverse role, often fast paced and busy and you will need to be confident talking to people of all ages.  It's an exciting time to join Beaudesert as we have increased our customer numbers for the third year running and aim to increase them further over the next few years.
We are a diverse organisation and welcome applications from all ages from 18 upwards for this role.  Experience would be a bonus but isn't essential, we are primarily looking for someone who can develop and grow in this role under the guidance of our Safety and Standards Manager.  So training is available. You will need good GCSE or A 'levels in Maths and English and be confident talking to people.
A competitive salary, free uniform and pension scheme.
36 hour per week across 4 days
Friday 8-3am till 8pm with 2 x 1/2 hour breaks, Saturday 8-30am till 6pm with 1/2 hour break  Sunday 8-30am till 5-30pm and Monday 8-30am till 5pm.
 To find out more please read Guest Care Coordinator application pack
To apply please complete an Application Form and Diversity Form and return it to HR@beaudesert.org.uk
Closing Date Sunday 14th July
Interviews 16th or 17th July
Activity Instructor
30 hours per week annualised contract, starting anytime between 1st November 2019 and 1st February 2020
1 year fixed term contract, potential to renew or make permanent after 1 year.
Instructing activities, this role comes with lots of training and National Governing Body qualifications.
Competitive salary depending on age and experience. Accommodation available in a 4 bed detached house with free rent and low bills.
Please read the full job pack here Activity Instructor 2020
To apply please complete an Application Form and Diversity Form and return it to HR@beaudesert.org.uk
Closing Date 30th September 2019
2 selection days will take place during the week beginning 14th October 2019.
Successful candidates start any time between 1st November and 1st February depending on their current commitments.
Casual Activity Instructor
Casual Activity Instructor required to join our team at Beaudesert.
We are looking for more casual instructors to join our team and assist us on busy days.
To instruct outdoor activities,  generally assist around the centre. Ideally you will have qualifications in either of the following CWA, SPA, BCU level 1, Archery GB, Fencing or NSRA rifle shooting instructor. However, attitude and enthusiasm is more important and training can be given for the right candidate. A DBS check will be required for the appointed person.
Competitive salary.
To apply please email your CV and cover letter to HR@beaudesert.org.uk
---
Casual Cook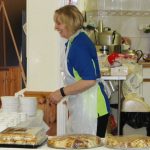 The role of a casual cook is to help deliver our catering services. You will be given training and support to enable you to do this.  Sometimes working on your own, sometimes with a Kitchen porter or sometimes as part of a team you will cook and serve for anything between 12 and 500 customers.  It's a very varied role and lots of shifts available particularly in the summer.  Lots of interaction with the customers ensuring that everyone is looked after. Shifts vary but include, breakfast, lunch and evening dinner.
To apply Email a copy of your CV to HR@beaudesert.org.uk
_______________________________________________________________________________
Volunteers
As a charitable trust we rely on the hard work of a large volunteer team who provide support for our paid staff and help us to complete projects that we would not normally be able to complete. Volunteers assist with a wide range of tasks on site and are instrumental to the success of our centre. Our approach to volunteering is flexibility and we are content with any time that you are able to offer. In return we offer training, a DBS, and uniform to regular volunteers.
Volunteering Information
We are specifically looking for volunteers to fill the following roles, but any offers of support would be greatly appreciated:
Volunteer fundraising administrator
To assist the chairman with our exciting fundraising and development plan.
Responding to donations and assisting with grant applications. This is an exciting voluntary role as we aim to raise £2m over the next 10 years.
Volunteer Weekend Trainee estate assistants – 4 positions – 2 Saturday and 2 Sunday
To assist Andy our estate manager with various repairs, maintenance and ground work. Full training given, would suit an explorer Scout.
Volunteer Props Builder/Carpenter
To build various scenery and props for a number of events throughout the year. Some basic DIY skills and creativity needed.
Volunteer Gardener/Groundsman
To help with general gardening tasks around the site. Flexible working hours, mowing, strimming, hedge trimming, general garden maintenance.
Volunteer Decorator
To help the Estate Manager with various refurbishments in the dormitories. We've got an extensive decoration plan in action and anyone who can use a paintbrush or roller will be welcome.
Volunteer Shop Staff
To help on busy weekends and Friday evenings serving young people and adults, stocking shelves in various shifts. Good people skills, mental maths and a friendly attitude required.
Volunteer Activity Instructors
To help with a wide range of tasks supporting the qualified instructors. Could lead to gaining some National Governing Body qualifications. Any age over 14 years.
Volunteer Catering Assistants
To help the catering team on very busy weekends catering for up to 2000 people. This is an amazingly rewarding role. Teamwork essential.
To apply to be a volunteer, please complete this form and return it to HR@beaudesert.org.uk.
Work Placements
We have some fantastic volunteer work placement opportunities. If you are looking for some experience in Estate work, Activity leadership, Catering or Retail please get in touch letting us know what you are interested in and when you are available. We are looking for candidates who want regular work days and for a reasonable period of time for this programme and it would particularly suit people looking to get back to work or university students looking for work placements. For these work placements we'll create a tailored training programme for you to meet your goals. We'll give you real work experience and you will only do tasks and projects that have a purpose and a positive outcome for the centre. This means that you gain real experience and knowledge.
Email us now centremanager@beaudesert.org.uk
School work experience
Are you looking for year 10 or year 12 work experience? We can offer one or two week placements shadowing staff in the Estate, Catering or Activity Teams.
After some initial shadowing and training we'll give you some real tasks to carry out on your own (with monitoring and supervision).
This is a fantastic opportunity to see work that could support careers in catering, estate management, forestry, activity leadership, working with children.
Email us now centremanager@beaudesert.org.uk