Accommodation…
At Beaudesert, we are able to offer a range of accommodation options:
Indoor Accommodation
Seven buildings ranging in size from 2 to 24 beds, offering a total of 122 beds. Read more »
Camping
38 campsites ranging from large open fields to small wooded glades meaning that the site is suitable for large and small groups. Read more »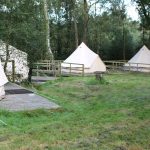 Tented Village
Unfortunatly our tented village will remain closed for maintenance this year.
Hammock Camp
Sleeps 24 in hammocks under tarps. Includes large tarp shelters and an altar fire. Read more »
Other Buildings
Including catering facilities and our outdoor classrooms. Read more »