The Itinerary
You will be met by your instructors who will give you a guided tour of the course and a demonstrate how to use the equipment. By the end of this safety briefing you will know the challenges and the theory of how to keep yourself save when on the course.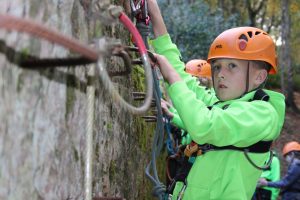 Before you go on the main Via Ferrata course which is very high, you practice on part of the course which is close to the ground.  We will give you time to develop and gain new skills so you do not accidentally unclip yourself on the main course.
When on the main Via Ferrata course, you have the opportunity to work with a partner. Your partner will be on the ground supporting you and providing you with advice.  You will then swap places and it will be your turn to look after them as they take on the challenges.  Your instructors will be close by to support you if required.  Depending on time there might be an further opportunity to complete part of the course again.
Group Leaders please note:
We ask for a leader from your group to be present and actively supervising the young people.  Two Beaudesert instructors will provide a safety briefing and will be able to see the participants and intervene verbally if required e.g. accidentally unclipping of all the safety lanyards. The Beaudesert instructors will also be well positioned, and skilled, to assist those struggling to get around the course.  They will also assist individuals down from the course should the need arise.  We ask you to satisfy yourself that the participants are mature enough to safely follow instructions.  Due to the linear nature of the course, the progression of some participants may limit the time of others have on the course.  There is also a weight limit of 120Kg or 19 stone for the course.  Participants need to be tall enough to clip on the safety system and we find a typical 10-year-old will be able to achieve this.
Why a full morning or afternoon?  We have increased the length of the session to provide participants more time on the course.  All Via Ferrata courses are linear meaning everyone has to go at the speed slowest person.  This can be very frustrating for some people.  We have found providing more time means it is a safer and more enjoyable experience for everyone. We have also created a number of 'escape routes' where people can leave and re-join the course if they wish to. This means people may choose to go on parts of the course for a second time.  We are intent on providing a good quality experience at a price which is affordable and are managing to keep our prices low. The other two Via Ferrata courses in England charge £37.50 to £40 per person a half day experience.