The Wilderness 2020 programme
Friday eve
8-30pm Main stage talk – TBA
9pm Film
9-15 pm Lamps and lighting – From fat lamps to Swedish candles this is a open queue and do workshop/demonstration.
Saturday
9-30am till 10-30am Workshop 1
11am till 12noon workshop 2
2pm Headline main stage speaker TBA
3pmtill 4pm Workshop 3
4-30pm till 5-30pm Workshop 4
7pm Dr Sarita Robinson Live on the Main Stage – The amazing Dr Sarita Robinson is back with another new talk with lots of audience participation guaranteed.
8pm – Fire display by Fabaloony – The amazing Fabaloony are back with another fire eating and juggling display.
8-30pm Campfire
During the day on Saturday their will also be a number of trade stands to buy those bushcraft gadgets from,  a nature health and beauty spar in the Yurt where you can enjoy a natural face pack or hand cream. Join us at the yurt for a tea or coffee.
Sunday
9am – 10am workshop 5
10-15 till 11-15am Workshop 6
11-30am The Big finale Large Game prep at the Wildways stand. John Boe of Wildways demonstrates the finer techniques of prepping a small dear. This is a hands on demonstration with plenty of audience participation, some cooked up venison and some lucky people will get a joint of venison to take away.  Don't miss this fantastic demonstration.
Bookable workshops for any participants on Saturday and Sunday to be confirmed soon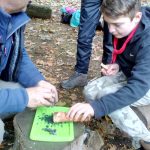 These sessions run on Saturday morning, Saturday afternoon and Sunday morning, and are provided on a 'first-come, first-served' basis. Bookings for these sessions will open by the 1st of September for those booked on to the event already.  We advise early booking to get your first choice of workshops.