The Wilderness 2019 programme
Friday eve
8-30pm Main stage talk – David Willis
8-30pm Film
8-30pm Walk and talk with Dan Hoffman from the YouTube channel "Survive the Wild"
Saturday
9-30am till 10-30am Workshop 1
11am till 12noon workshop 2
2pm Sally Kettle live on the main Stage – An Atlantic World Record Holder.
3pmtill 4pm Workshop 3
4-30pm till 5-30pm Workshop 4
7-30pm Dr Sarita Robinson Live on the Main Stage – Real life survival stories involving young people.  After her awesome How to survive a Zombie apocalypse talk last year, Dr Sarita is back with another fantastic interactive main stage talk.
8-15pm – Fire display by Fabaloony
8-40pm Campfire
Sunday
9am – 10am workshop 5
10-15 till 11-15am Workshop 6
11-30am The Big finale a hands on Game Prep and Cook Up with John Boe of Wildways.
For leaders only
Campfire cook off – 4 free places up for grabs giving you the chance to show off your camp cooking skills and be crowned the wilderness cook for 2019
What is in your rucksack? a chance to contribute to our top 10 things to pack in your rucksack for a trip into the wilderness.  Come and take part and vote.
Bookable workshops for any participants on Saturday and Sunday including: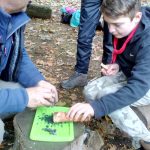 Mindset and situation awareness
Home made face packs – Beauty treatment session
Signaling
Bodging is the art of chair leg making.
In this session we will show you how to use a traditional shave horse and pole lathe.
Making a stool
Hobo tin can fires
Foraging
Military Bushcraft
Green Woodwork
Crochet
Small Game Prep
Woodland Mindfulness
Wogun/pot hanger stick carving session
Knotts and natural cordage
Paracord Bracelets
Paracord keyring
Shelters and Tarps
Space – stars and planets
Woven Bramble Baskets
Hand tool and equipment making, use and safety
Tree recognition
Emergency first aid
Water Safety Skills
Traps and snares
Coracling
Charcoal and Charcloth making
Mallet Making
Kazoo making
Wilderness emergencies
Stone tool making
Iron age fire lighting
The survival room
Nature walk
Natural navigation
Kelly Kettles
S'mors and dough twists
Canoe expeditions – an amazingly inspirational session by Alex Kerr. Note this session doesn't include water time
Archery
Bow drill fire lighting
Spoon carving
Campfire bread making
Arrow making
Natural cord making
Bush tucker challenge
Charcloth, tinder and flint and steel
Hand Drill fire lighting
Fat lamps and stone age stories
How to make a fishing spear
Water Filters
Rifle shooting
Shelter construction
Cave art
Tomahawk throwing
Via Ferrata
Coracling
Abseiling
Fencing
Canoeing
These sessions run on Saturday morning, Saturday afternoon and Sunday morning, and are provided on a 'first-come, first-served' basis. Bookings for these sessions will open by the 1st of September for those booked on to the event already. An email will be sent with the booking form.