Wilderness 2018...
Date: 5th October 2018 Details: A bushcraft weekend event for all ages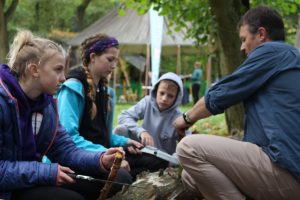 Join us for our bushcraft, nature and survival event for all ages.
Massive range of  bushcraft, nature and survival demonstrations, training courses, workshops and special guests. Including the cooking zone, wilderness camping zone, hammock camping zone, bivouac zone, professional talks, paddle sports zone, back to basics activities, trade show, evening entertainment and much more.  This event is for young people but with plenty of sessions that adults can join in too. Suitable for Beavers through to adults.
£36 per person weekend ticket  (Friday through until Sunday, includes camping, access to all talks, workshops, activities and demonstrations, and an event t-shirt).
Weekend meal deal £22
Weekend hammock hire £10 per person.
£26 per person day pass Saturday only until 10pm.
£5 per person Sunday morning pass 9 till 12noon.
To book, please complete this form and return it with full payment to the centre.