Wilderness 2018...
Date: 5th October 2018 Details: A bushcraft weekend event for all ages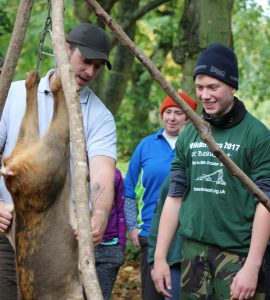 Join us for our bushcraft, nature and survival event for all ages.
A vast range of workshops on Saturday and Sunday including:
A range of fire making techniques
Knife skills to make spoons and mallets
Hand tool and equipment making, use and safety
Emergency first aid
Traps and snares
Site activities
And much more…
A huge range of guest speakers:
Lofty Wiseman on his experiences
Dr Sarita Robinson on 'How to Survive a Zombie Apocalypse'
David Willis on 'The Bushmen of the Kalahari'
To name but a few…
Evening entertainment including:
Clansmen Fire with a captivating Fire Display
Questions around the campfire with Dan Hoffman
Beaudesert walks
Disco and Films
Making Fat Lamps
This event is for young people but with plenty of sessions that adults can join in too. Suitable for Beavers through to adults.
For further information on the event, please click here for our latest flyer.
£36 per person for the weekend ticket  (Friday until Sunday, includes camping, access to all talks, workshops, activities and demonstrations, and an event t-shirt).
Weekend meal deal £22
Weekend hammock hire £10 per person.
£26 per person day pass Saturday only until 10pm.
£5 per person Sunday morning pass 9 till 12noon.
To book, please complete this form and return it with full payment to the centre.